Temporary OutRent Multi-month Rental, the low-cost mobility solution with a temporary rate, to meet your needs.
If the excessively long waiting time for the arrival of your new car prevents you from traveling with peace of mind in the car you need to change, you can opt for one of our multi-month rentals.
A FEW STEPS FOR AN IMMEDIATE SOLUTION THAT'S RIGHT FOR YOU
All you have to do is choose the model best suited to your needs and sit down in a few minutes on board your new mobility solution; thanks to Temporary OutRent from Autonoleggi Demontis, you can take advantage of an affordable temporary rate, guaranteeing you the security of a reliable vehicle right away.
Some examples
Small solution, from €299.00 + vat* - For example, Fiat Panda.
Medium solution, starting from €349.00 + vat* - For example Seat Arona.
Large solution, from €439.00 + vat* - For example Citroen C4 Space Tourer.
Suv solution, from € 479.00 + vat* - For example, Nissan Qashqai.
People Moover solution, from €599.00* + vat - For example, Renault Trafic 9-seater.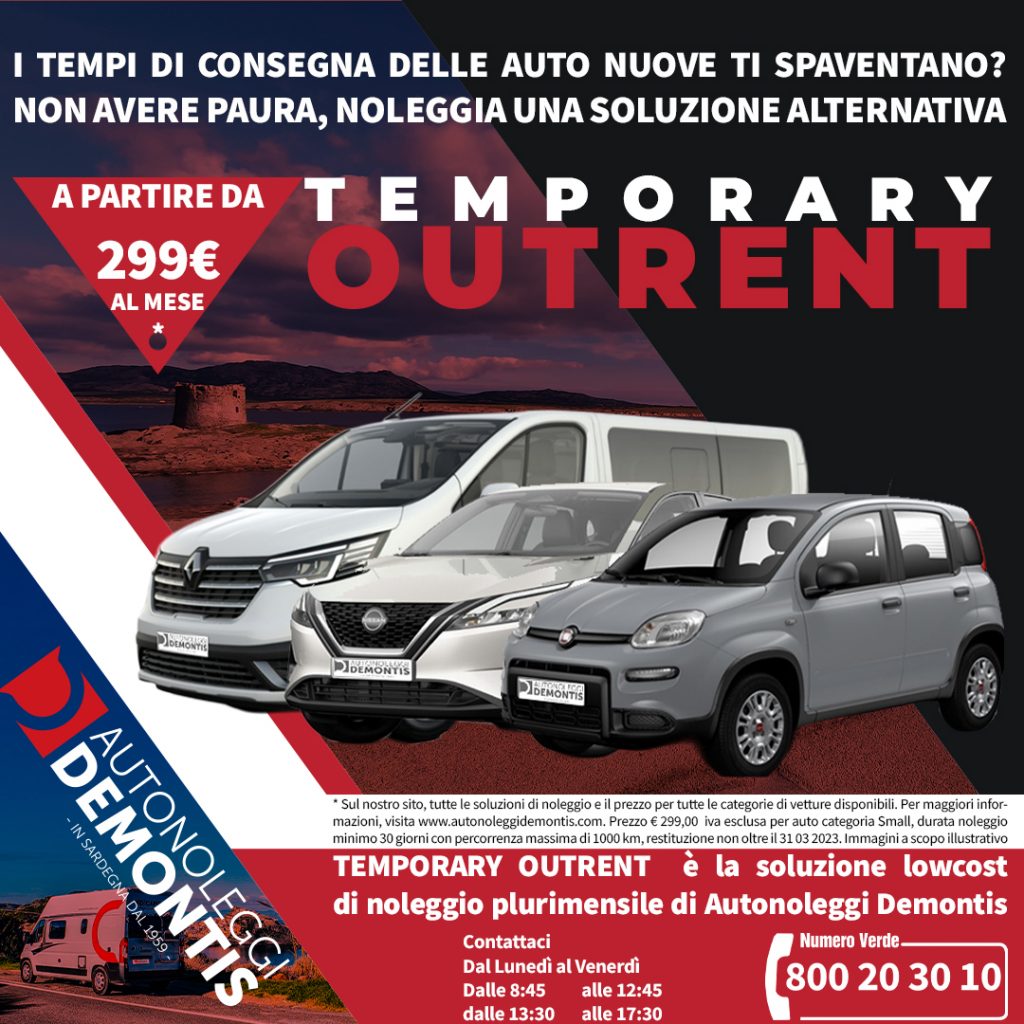 HOW TO JOIN THE TEMPORARY OUTRENT INITIATIVE
Contact us now on our toll-free number 800203010 or visit us at one of our authorized agencies to find out the availability of your ideal car. The toll-free number operates Monday through Friday from 8:45 a.m. to 12:45 p.m. and 1:30 p.m. to 5:30 p.m. You can also contact us by filling out our contact form here.
*Rate includes:
1000 km per month on park car with property tax included,
Civil Liability and Third Party Transport Insurance with a limit of 10,000,000.00 euros,
helmet coverage (with STANDARD deductible per claim),
theft coverage (with STANDARD deductible per event),
assistance throughout the country,
maintenance and repairs (excluding those resulting from non-technical damage and improper use of the vehicle),
Car replacement for technical downtime of more than 36 hours,
Mileage as per proposal with monthly/quarterly adjustment of extra miles,
Automobile, rail and airport charges.
Rate does not include: 
Excess miles,
WASHES,
parking spaces,
fines,
fuel,
V.A.T. at 22%,
Crystal protection and anything else not specifically mentioned in the 'bid.
HOW TO START OR TERMINATE MULTI-MONTH RENTAL EARLY
Payment method: monthly payment in advance installment by credit card.
Security deposit: not due
Re-rental / Penalties: in case of early return, before 30 days, the daily rate in effect at the time the car is returned will be applied; in case of return after the 30th day, excess days will be quoted in thirtieths of the monthly rate.
CONTACT US, TEMPORARY OUTRENT DURATION IS LIMITED
Temporary OutRent Is a temporary initiative, valid from 01/10/2022 to 31/03/2023, with last rental opening date set at 01/03/2023. Don't miss the opportunity to take advantage of a multi-month rate, never so convenient.